Let me tell you a sordid tale of forgetfulness and morning sickness and lack of sleep.
I've been holding a mouse hostage.
I feel terrible for her, poor little Mousey Maileg.  And for her owners.  It was an accident, I promise!  She came with some friends for an overnight visit.  And she stayed.  And stayed.  And stayed.  Oops.
It started out as, "Sure, I can post her back to you!"
Then it became, "Now, I have to remember to go to the post office…"
And progressed to, "Shivers!  I HAVE to post that mouse!"
But I've put an end to it.  I'm posting her today.  And I made the mouse a house.  So her owners know I looked after her the whoooooooooooooooole time she was with me.
Mousey's told me she likes it, so that's a relief.  I mean, it was the least I could do after putting her through such a harrowing ordeal.  And it was a pretty cute and enjoyable last minute project to do!
I made two little mattresses for extra padding for the long trip home and to ensure Mousey gets a good night's sleep, a patchwork duvet backed in cotton chenille, and a pillow for Mousey to rest her sleepy head on.
I used some of the last scraps of one of my favourite vintage cross-stitched table cloths.  It will be sad when it's all gone, but only the best for Mousey Maileg.
And I love the modern vintage feel it has with the modern Heather Ross Briar Rose prints mixed with the vintage orange and white check and the cross-stitch.  It's me all over.
I gave Mousey a room with a view too.  It's a lovely sunny day, just a few clouds in the sky, enough to keep the heat down.  And Mousey's a green thumb, by the way.  That gerbera flowers all year round!
And she can draw her curtains at night when it's time for sleeping.  Or when she gets tired of that happy sun shining into her room all the time.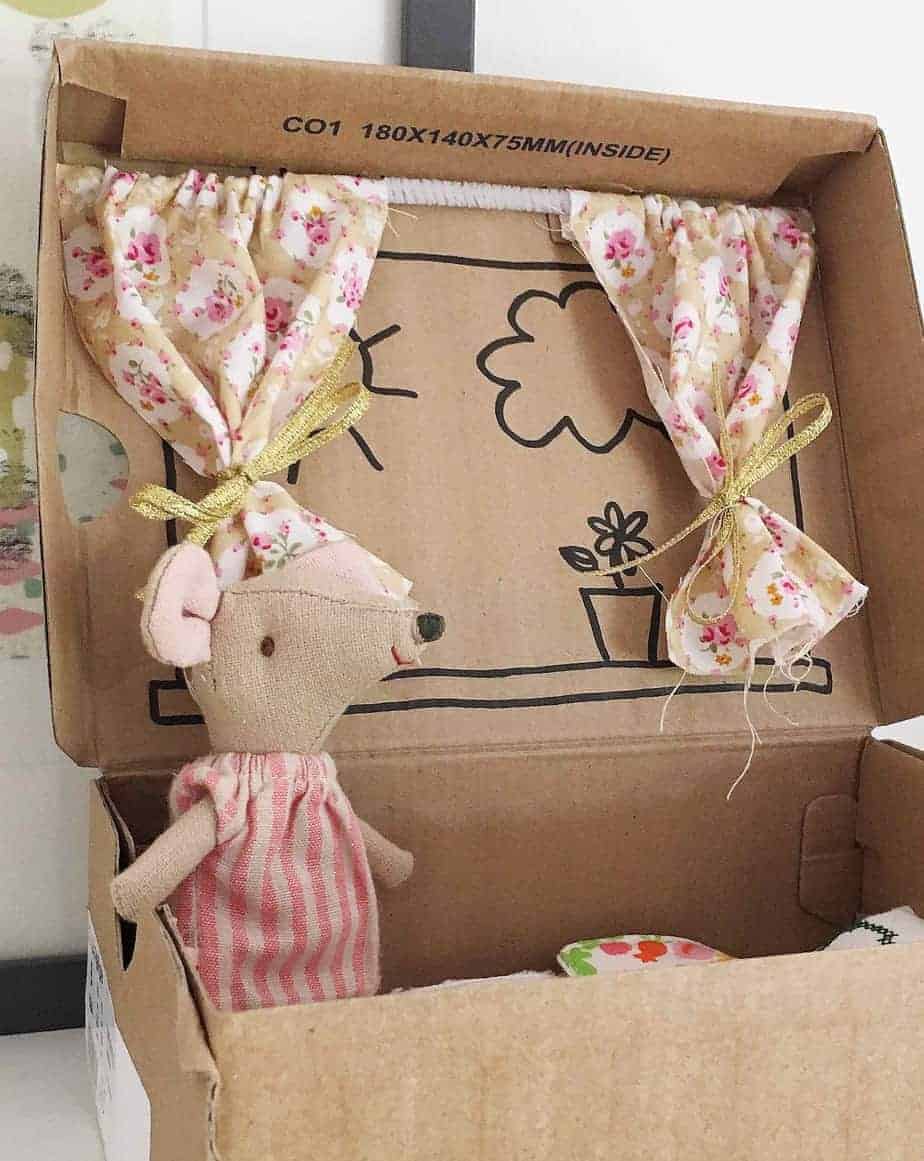 I'd love to be a fly on the wall when Mousey's owners open the box.  Hopefully they'll be as delighted as Mousey.