How to bind 120 degree angles + Video Tutorial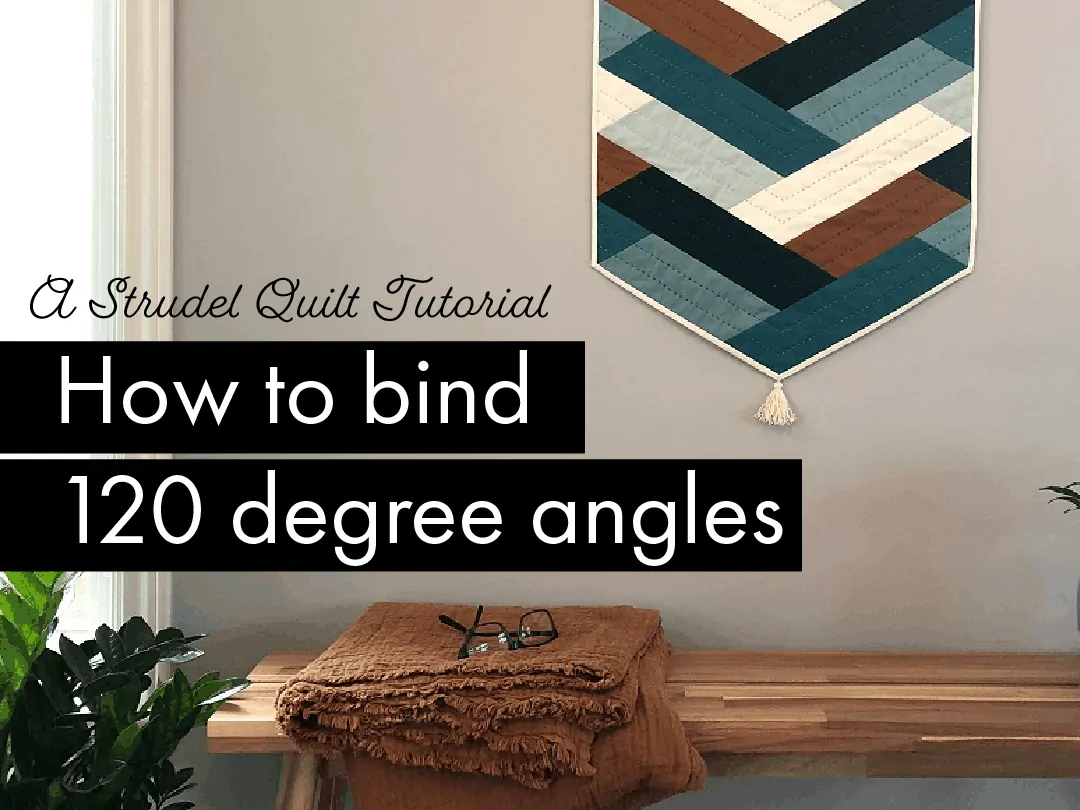 Once you've finished piecing and quilting your Strudel quilt you may find yourself looking at the beautiful flag shape wondering how to bind 120 degree angles.  Sure, you could just wing it and go for the quick and dirty approach… Or you could just follow this simple tutorial and have perfectly mitred corners!  I know what I'd be choosing (particularly since I've done all the hard work for you!).
And let me tell you something: this tutorial will make you a master binder for ALL kinds of angles!  Just keep in mind to line up your binding strip with the next edge of your quilt when creating the first fold – and you will have a perfectly mitred corner, not just for 120 degree angles but for ANY obtuse angle. 
To be honest, I haven't encountered any other obtuse angles in my quilting adventures so far, and I'm guessing that sticking to somewhat traditional quilt blocks and layouts I won't come across any completely random shapes, but I can't help it, my background in engineering just makes me appreciate the broad validity of this concept.  So please excuse my bragging… 😝 
But enough talking, let's start! 
How to bind 120 degree angles
Materials:
A unbound, quilted project with obtuse angled corners, like the Strudel quilt
prepared double-fold binding to fit the size of your chosen project
matching thread in sewing machine
matching thread and needle for finishing the binding
Step 1: Whether you're machine or hand-binding your quilt, just start like you always start – pick one of the sides of your quilt and start attaching your binding strip (I usually start somewhere in the middle, leaving about 10 inches of binding hanging to be joined later).  As soon as you are about four inches away from your first 120 degree corner, stop. 
You can purchase the Strudel Quilt pattern today in paper or digital format!
For members of the EU, for VAT collection purposes you can purchase the downloadable Strudel Quilt pattern in my Etsy shop.
Step 2: Fold your binding to the right, so that the edge of the binding and the next edge of your quilt form a straight line (see dashed line in picture below). 
Step 3: Depending on the colours of your fabrics and your light conditions, a good finger press might be all you need to create a sufficiently visible crease.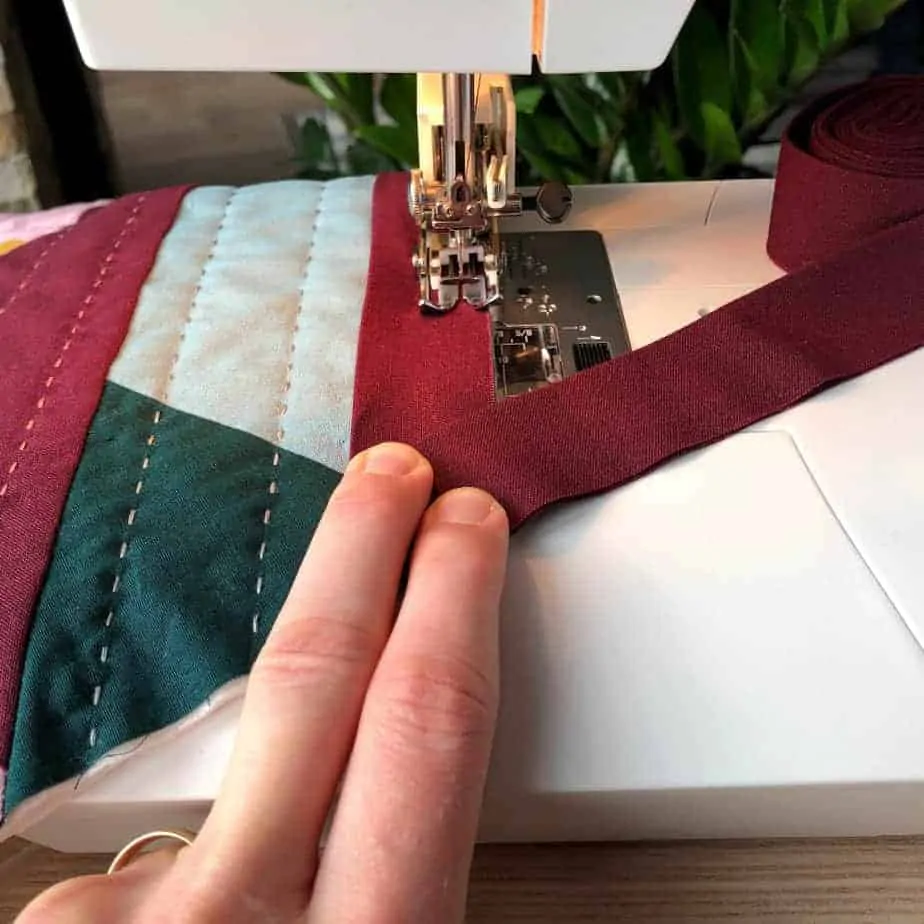 Step 4: But if you want to play it safe, feel free to use a temporary marker to enhance the visibility of the crease you just created.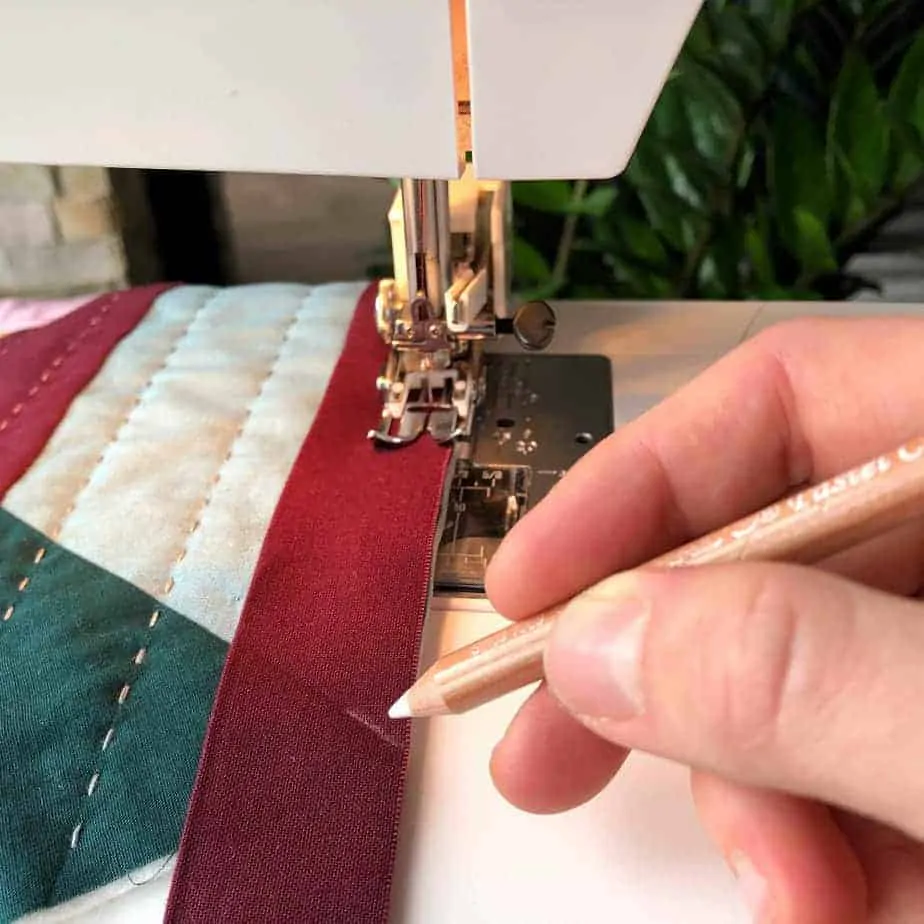 Step 5: Now, continue stitching until you get to that line, then stop with your needle down and lift your presser foot up. 
Step 6: Pivot your Strudel quilt clock-wise around your needle, lower your presser foot again and finish sewing your seam on the line you just created towards the corner of your quilt, two to three stitches, depending on your stitch length. Back-stitch and cut your thread. 
Step 7: Your seam should now look like this: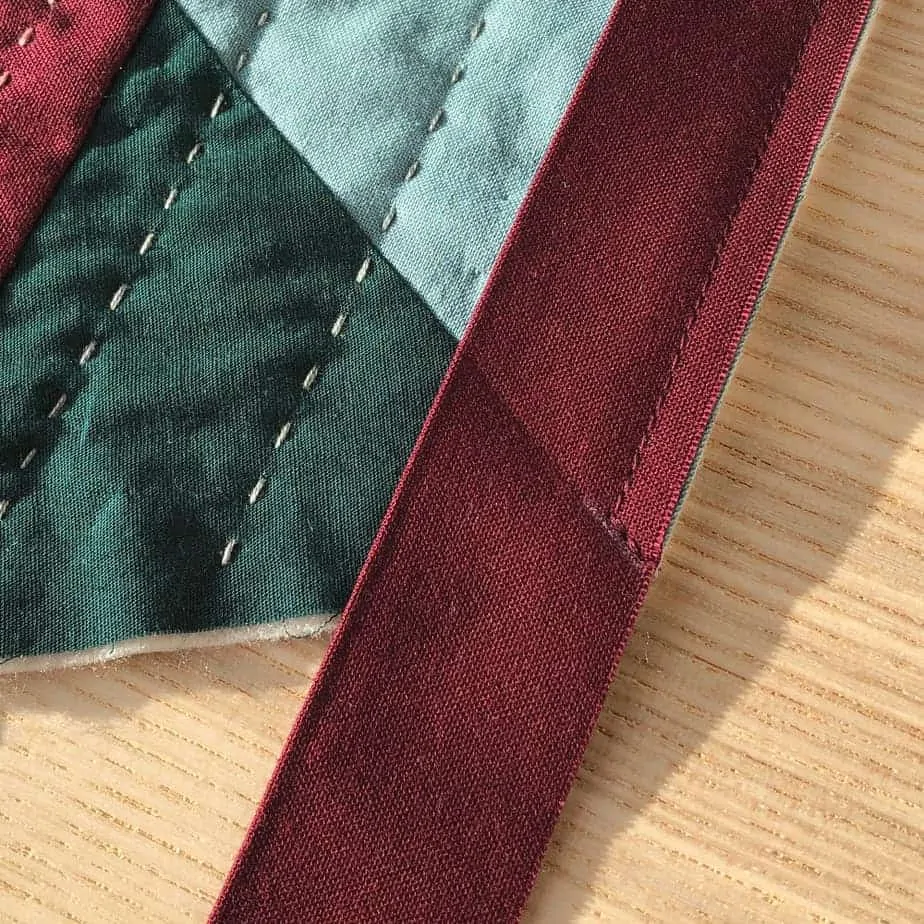 Step 8: To continue, refold your binding on the previously created crease, then fold it back along the next edge of your quilt – the two folds should meet at the corner of your quilt – and secure it with a pin.  
Step 9: Starting at the pinned corner, continue to sew on your binding strip along that next edge until you get to the next corner. 
Step 10: Repeat the previously described steps for the remaining two 120 degree corners, then finish attaching your binding as usual until you have completed the entire round. 
Before stitching the binding down on the back of your quilt, I suggest gently pressing it towards the seam you just created. This way it will be much easier to fold it over evenly. 
Step 11: Now finish the binding with your preferred method, by machine or by hand. For a wall hanging I personally would not want to see that extra seam in the front that's typical for machine binding, so I suggest hand-stitching the back of your binding. You can do a less noticeable whip or ladder stitch, but since I'm currently finishing all my quilting projects with a chunky hand stitch, this is what the pictures will show. 
How to bind 120 degree angles AND finish with perfectly mitred corners!
Again, attach your binding along one of the edges of your quilt, until you get close to a 120-degree corner, about half an inch away or so, then stop.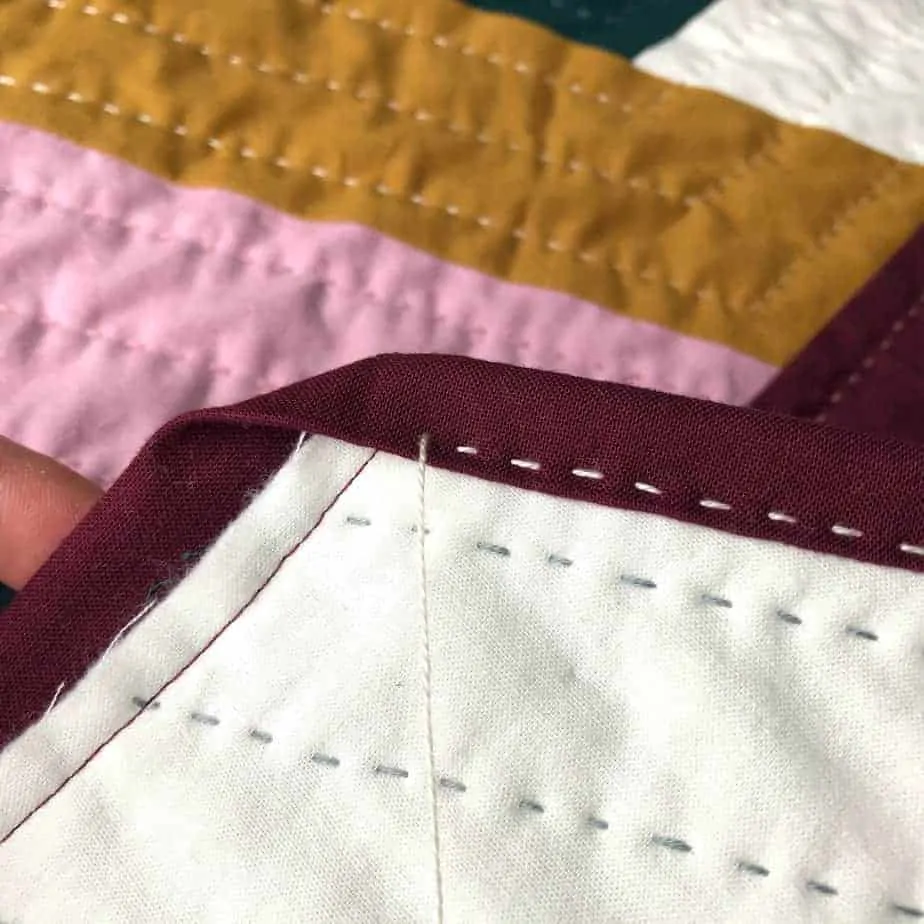 Step 12: Fold the next side of your binding over, creating a neat mitered corner and pin it in position.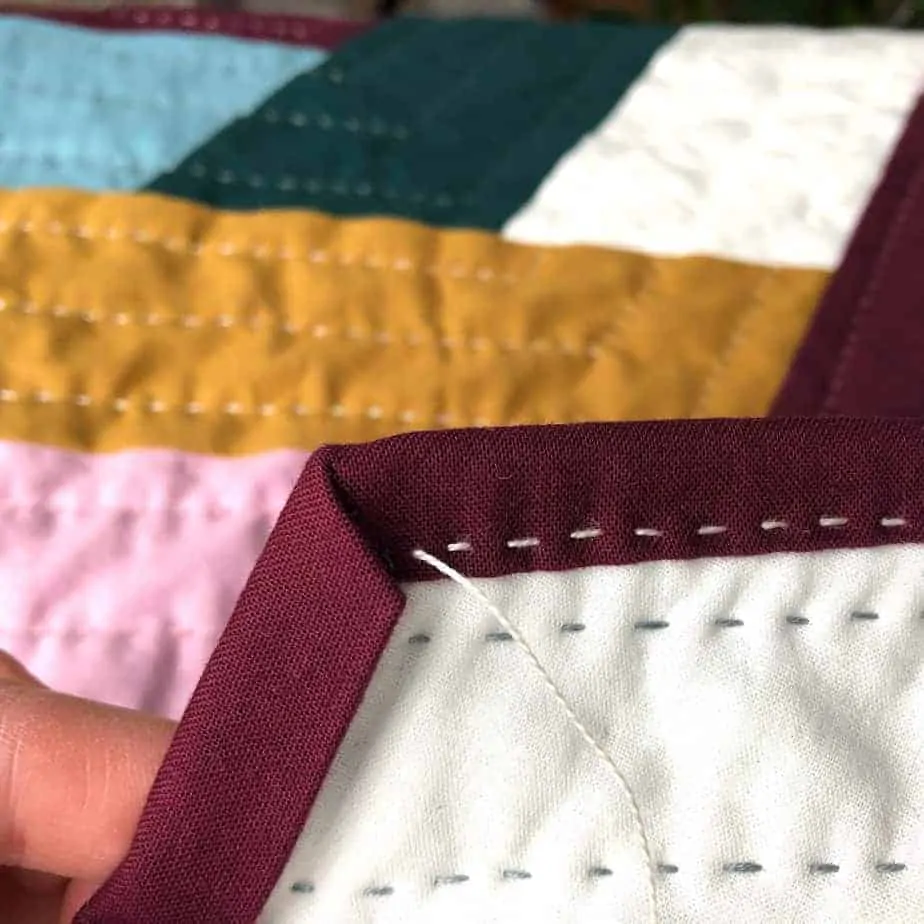 Step 13: Then, continue your seam until you approach the next corner. Repeat the described procedure until your binding is completed.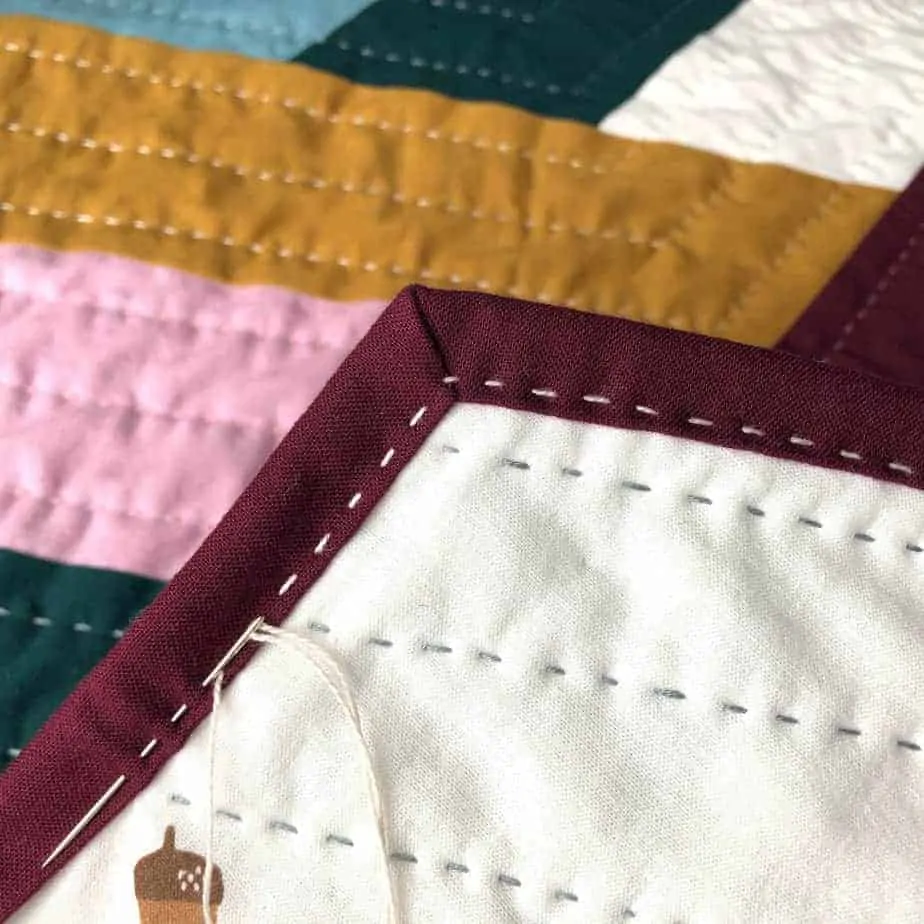 Turn your quilt over and admire your perfectly mitered corners!  Thanks for following this tutorial on how to bind 120 degree angles.  Let me know your thoughts and comments below!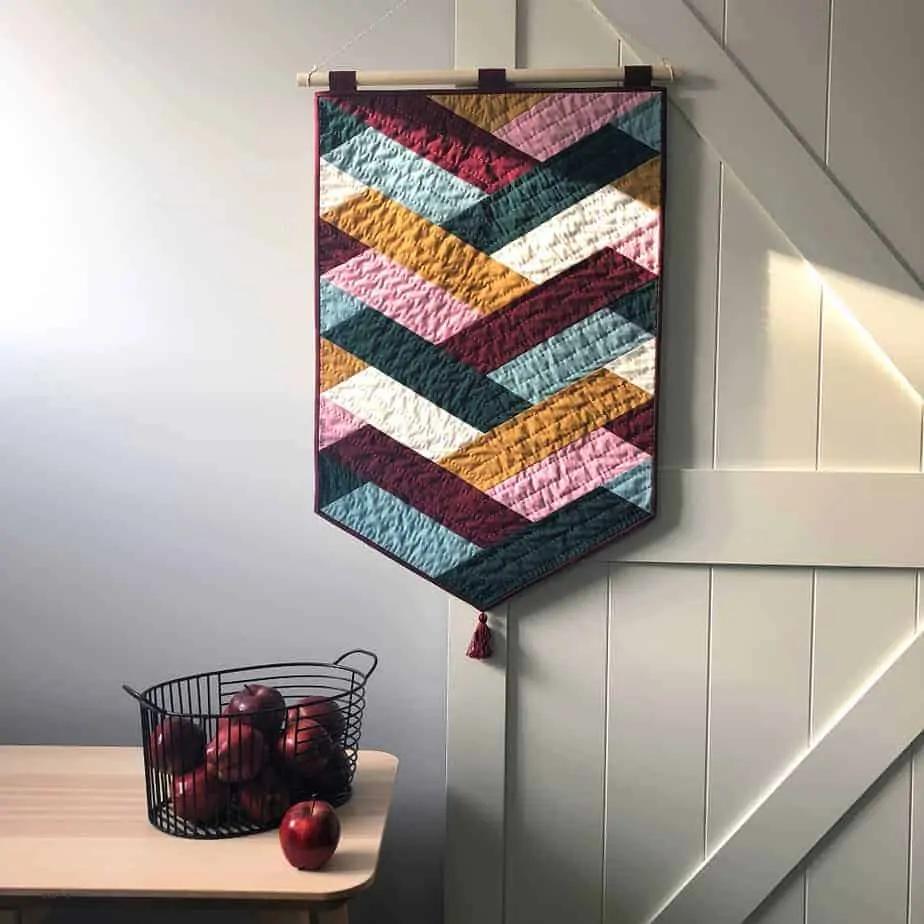 Guest Blogger
Astrid Bordush
Astrid is the creative behind Apples & Beavers, and has been an avid crafter since childhood.  Astrid is passionate about sewing, but quilting is the particular craft she leans on to recharge her busy-Mum batteries.