Marinated roast capsicum recipe
One good thing about this 'little CV-19 problem' is that I'm actually doing a lot of things I 'haven't had time for'.  And now I'm wondering what on earth stopped me before?  I think travel time is definitely a culprit!  When you're not going anywhere you really save a lot of time in the day.
So when I had my weekly date with the shopping trolley and came across a pile of relatively cheap capsicums I decided it was high time I made some marinated roast capsicum.
This recipe is one I grew up with.  I can remember peeling the skins off capsicums when I was a kid, burning my fingers on the still-hot flesh.  There was something kinda fun about pulling the bubbling skin off – and yes, I do realise how wrong that sounds…  
It's a simple recipe that results in a satisfying accompaniment for many meals.  This past weekend for our Easter Sunday dinner I served it with chorizo roast chicken (a riff on this recipe where I put the sliced chorizo under the skin on top of the breast instead of sprinkled on top), homemade hummus and roasted tomatoes, roast potatoes, green beans sautéed in butter and garlic and garnished with fresh dill, and homemade sourdough to mop up all those delicious chicken-y, tomato-y, capsicum-y juices.  
I also ate it for elevensies this morning, as you can see in the photos, on buckwheat toast with leftover hummus.  Yum.
Like I said before, it is a perfect accompaniment to lots of meals, and a REAL Greek woman has a pantry/fridge full of these kinds of dishes ready to pull out at a moment's notice when unexpected guests arrive.  I have so many lovely memories of family meals made up of bits and pieces – leftover spanakopita and dolmades, bowls of tzatziki and taramosalata with bread for dipping, cold meats, chunks of feta, fresh salads and of course, patates (aka hot chips).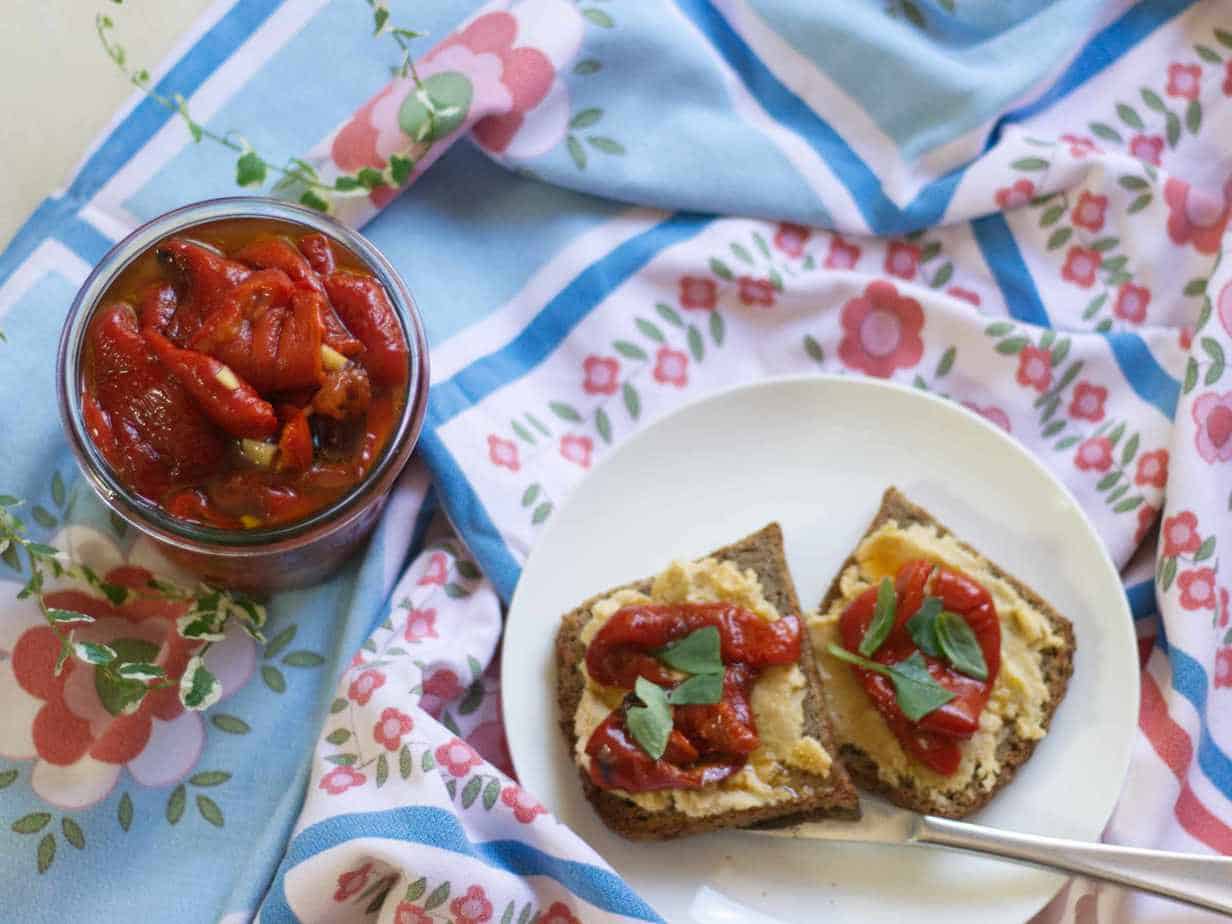 Marinated roast capsicum recipe
9 medium capsicums (this is a great way to use up the not so nice green capsicums)
3 cloves garlic, sliced
olive oil
white vinegar
salt & pepper
Preheat oven to 200°C.
Wash capsicums and dry.  Slice capsicums in half lengthways, cut out the stem and remove the seeds.
In a lightly oiled (I like to use baking paper) baking dish or tray, lay the capsicum skin side up and generously drizzle with olive oil, using your fingers or a pastry brush to make sure all the skin is well covered.
Roast in oven until skin is blackened and blistered, as shown.
Allow to cool and then peel as much skin off as possible without wasting any flesh, and discard.  Some people like to put the hot capsicum in paper bags to sweat, however I don't think this step makes a huge difference to removing the skins, and I'm not really worried if there's a bit of skin left on the capsicum.
Tear up the flesh into similar sized strips of about 1.5″ x 3″.
In a medium sized jar, add a tablespoon of olive oil and a tablespoon of vinegar, a few capsicum pieces, a couple of garlic slices, a small sprinkle of salt and pepper.  Repeat this same process until all the capsicum and garlic is used up.  The idea is that the capsicum will be nicely incorporated with the garlic, oil and vinegar by the end.
If, at the end, you find that you have a lot of capsicum not covered with oil and vinegar just continue to add oil and vinegar in even quantities until it is covered.  It can be eaten immediately, but flavours will continue to develop over the next few days and it will taste much better once the garlic has time to infuse the capsicum and liquid.
Cover with a lid and store in the fridge.