Oven Mitt Sewing Pattern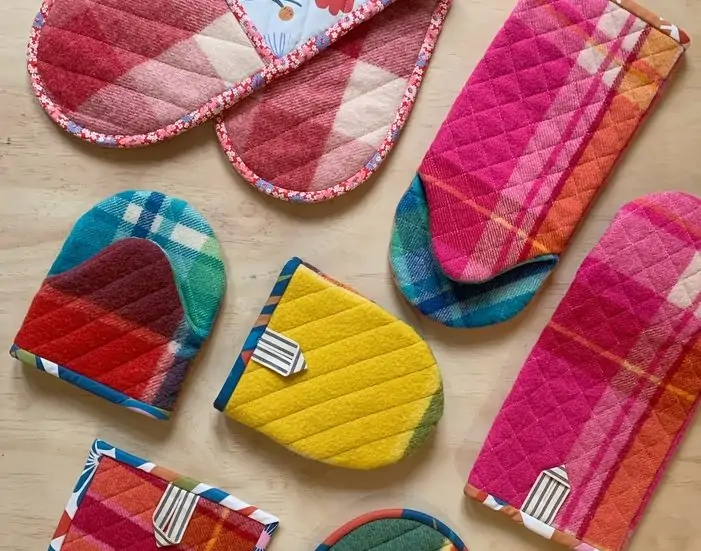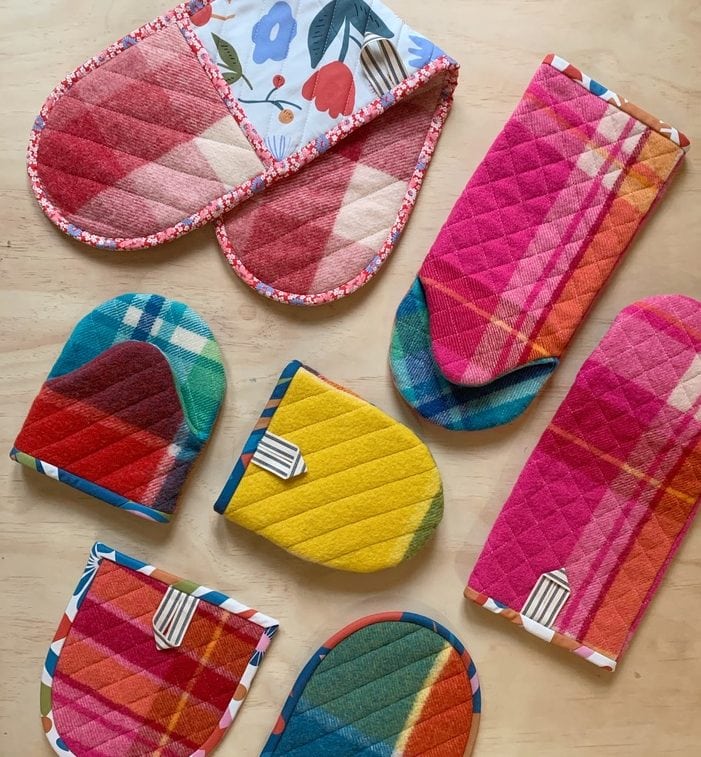 The Wife-made Oven Mitt Kit sewing pattern is my latest release and I am SUPER excited to finally be able to share it with you!
I've wanted to write an oven mitt sewing pattern for ages. You know when you have an idea, and you know how to do it and you want to do it, but 'the universe' just keeps getting in the way? Well, that's been the case for this entire year so far! With a late start to the school year due to Covid, then chicken pox and nasal surgery and weird reactions to surgical tapes that required an ED visit and then an un-ending wet season plus flooding(!!), it has been a wild ride and it's only March. (Stop the rollercoaster please, I want to get off!) But I've finally made it to release day and I can now breathe a sigh of relief. Let's hope the next three months slow down a little…
Oven mitts are important!
If you're anything like me, potholders and oven mitts are the LAST thing you think about… until you really need them! Isn't that often the way though!? It's the things you actually can't do without that often don't get a spare thought until they're not readily available. I mean, have you tried removing something from the oven without your oven mitts? A bundled up tea towel just doesn't cut it! The number of times I've been burnt or dropped what I was holding because I didn't have a good grip on it as a result of that fumbly tea towel proves that it just doesn't pay to ignore this super-important kitchen item.
The few potholders and oven mitts I have currently are so well-used (I almost wrote well-loved, but that's just not the case with the amount of abuse these poor things have been put through!) that I cringe inside whenever I have them out in front of guests. (Not to mention my embarrassment at the insides of my oven. But that's a whole other story… Yikes!) I also never seem to have enough oven mitts in rotation. I'm reticent to put the ones I do have through the wash when they need it because then when I need them they won't be there! (Yes, I'm also a terrible washer-woman!)
No more! From now on I will be well-stocked in my supply of kitchen oven mitts, potholders and trivets, dang it!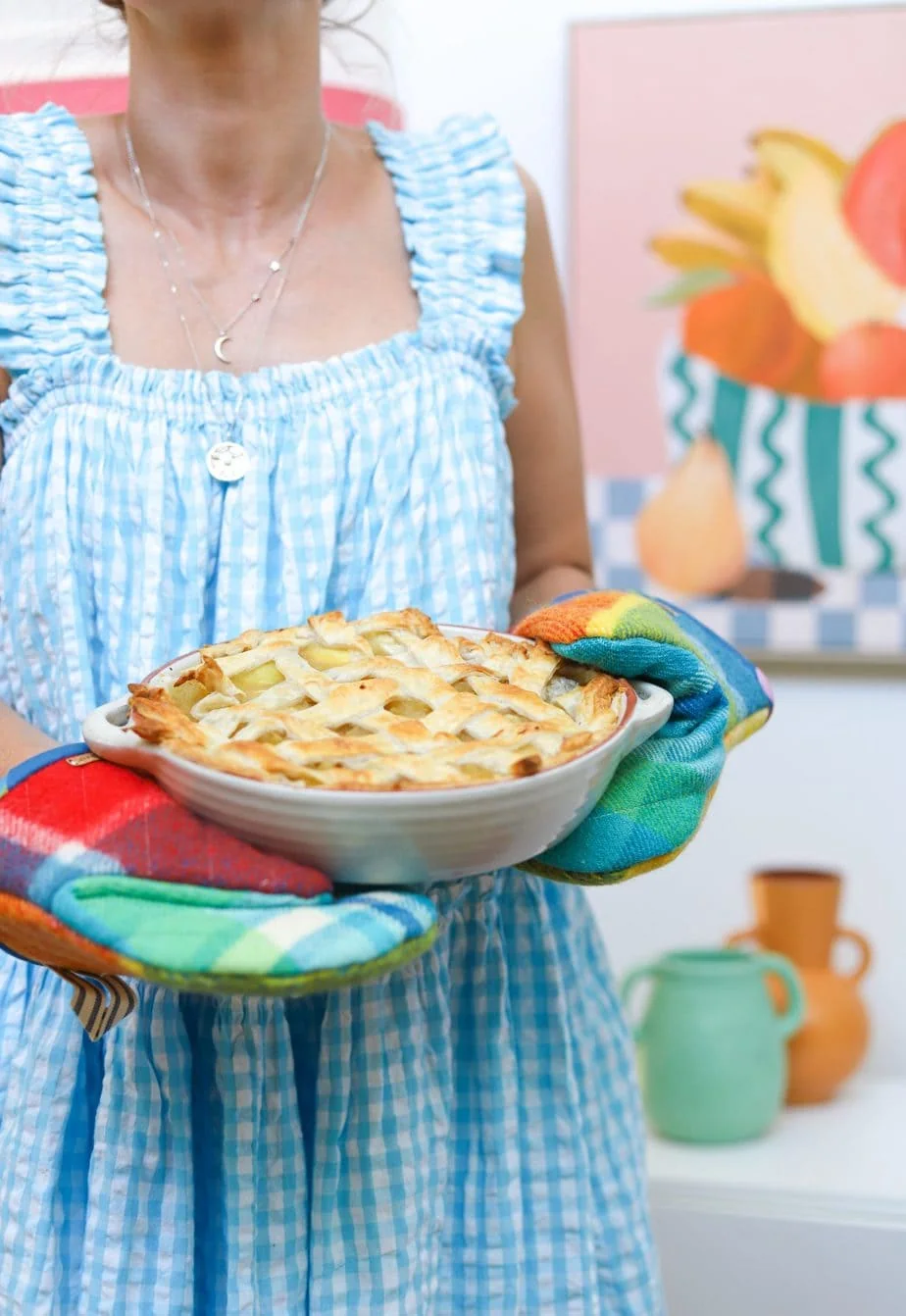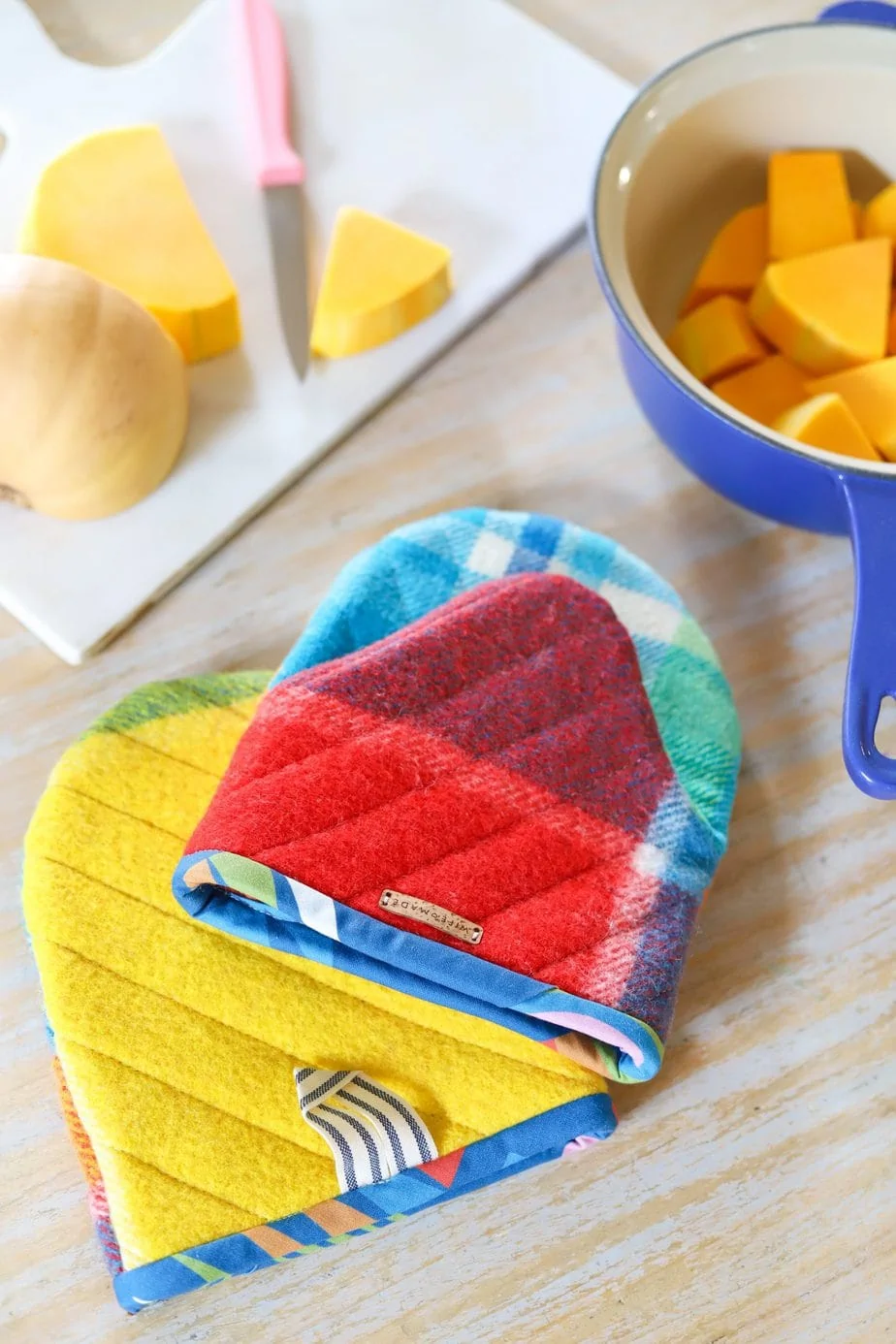 Get the Oven Mitt Kit digital pattern!
For members of the EU, for VAT collection purposes you can purchase
the Oven Mitt Kit digital pattern in my Etsy shop.
Key features of the Wife-made Oven Mitt Kit Sewing Pattern
Three different potholder styles
In my opinion, oven mitt style is a very personal thing. The ways we use potholders and oven mitts vary depending on the type of cook we are, and also, everyone's hands are different! For example, I don't particularly like the common mitten-style oven mitt because it doesn't feel like a natural position to hold things and I feel clumsy when I use them. Maybe that's because I have smaller hands..? I don't know for sure, however, I do like the puppet-style oven mitt that has a gusset. It's the exact position I put my hands in when I'm taking a baking tray out of the oven.
This potholder pattern includes what I'm calling a gusseted puppet-style oven mitt. Think 'thumb under top four fingers' and quack like a duck 😉  It comes in two different lengths which you can make to suit your intended use (more on that further down!), a double-ended oven mitt that can easily be made as long as needed, and an arch-shaped trivet/potholder. Together, these three styles are the answer to all the needs I have when handling hot stuff in the kitchen so I wanted to make sure I included them all in my pattern.
Oven Mitt Length
This is another thing that varies depending on how the mitt is being used. If I'm BBQing and trying to turn a lot of snags before they get frizzled to a crisp, boy oh boy do I want something to protect my arm hairs!  Moving hot coals around a pizza oven? Long oven mitts, thank you very much! But if I'm just quickly removing a tray from the oven, a shorter length will do the trick. Think of it this way – you wouldn't wear knee-high boots if ankle booties were more appropriate, so don't do it with your oven mitts. #sorude #howdareyou #lol
One size fits all (well… almost?!)
I designed this pattern so that most humans will be able to use it. It's not a fitted design, however, I have tapered the thumb section of the mitt to limit excess fabric in that area (because that's the bit that I find often causes me to drop things!). So unless you're Goliath's great-great-great-great-great-great-great-great (and so on and so forth) grandchild, your hands will most likely fit into this pattern. But of course, now that I've said that, there will undoubtedly be someone (or lots of someones!) who doesn't/don't like the fit. But it's impossible to make a pattern fit every single human currently on the earth so I'm okay with that.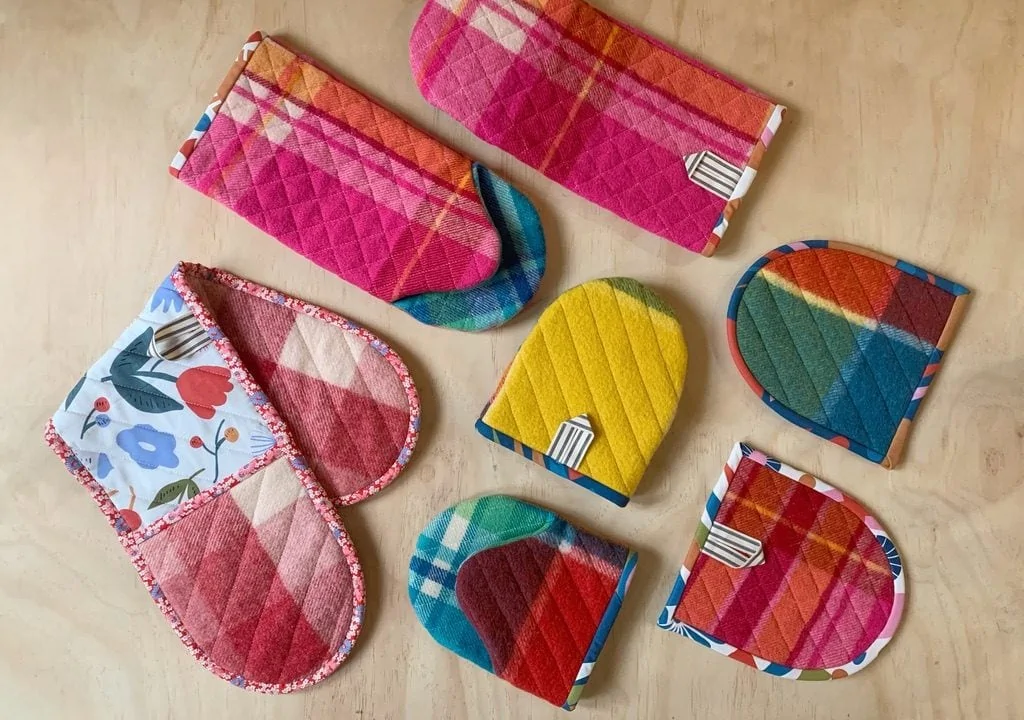 What fabrics do I need to make oven mitts?
Excellent question, my friend. I'm so glad you asked! There are a few things to consider because of the environment these babies will be used in, and I don't recommend taking a laissez-faire approach! Here are my top tips.
External fabric & lining
Natural fibres
Because you'll be using your oven mitts in an environment with high to very high temperatures it is imperative that you use fabrics that are 100% natural or specifically designed to be flame retardant. Personally, I will always choose a natural fibre over something man-made.
For the external fabric that will be exposed to the most heat, fibres like 100% wool, cotton or linen, or even 100% natural blends such as cotton/bamboo, wool/cotton etc, are great. I also think it's best to use something that is a bit more heavy-duty, like cotton canvas, or heavy-weight linens if you're feeling fancy. Quilting-weight cotton might be ok for the external fabric so long as you have enough batting on the inside, but it is perfect for the lining.
If you have your eye on some lightweight fabric my advice is DON'T DO IT!!! Now is not the time and this is not the project for lightweight fabrics. Keep them for scrunchies or summer dresses 😉 Should you ignore this advice, at least make sure you include the extra layer of cotton batting my pattern recommends. Let me just add that you really should use your commonsense for this project and keep in mind that you need to be able to handle very hot items without worrying about getting burnt.
Upcycle your textiles
If you've followed me for a while you may know that I have a deep (and probably close to hoarder-level) love for old wool blankets. (The colours and patterns are just so beautiful, I can't say no when they call to me in the op shops!) And this project is the PERFECT way to use them.
Wool is naturally flame retardant. It doesn't burn easily and it self-extinguishes. Also, what does burn turns to ash rather than melting and dripping as man-made fibres do. If you're keen to make a set of bright and retro oven mitts like the ones in this post I've got a range of Upcycled Wool Blanket Oven Mitt Kits you can choose from right here.
Other upcycling ideas… Got an old pair of jeans that are well past the use-by date? Old felted woollens like cardigans or jumpers? Get creative and use what you have!
Oven mitts are great for stash-busting
Making your own oven mitts is also a great opportunity to dive into that enormous pile of fabric scraps in the corner of the room. (Don't be embarrassed! We all have one of those.) Piece together tiny scraps to make some modern improv-style mitts, or use up those random flying geese blocks you haven't found a home for yet.
Batting options
Cotton batting
Regular old cotton batting is perfect for adding an extra layer of protection for your little handsies, particularly if you're planning on using a lightweight fabric for the outside of your potholder. *tsk tsk!* Quilters are certain to have a bunch of batting scraps that are too small for franken-batting, too big to throw away, but ideal for using to make oven mitts! So hit up your quilty friends for some batting scraps – you'll be doing them a favour. I promise!
Insulated batting
Insulated batting, such as Insul Bright, contains a reflective metalized polyester film that is needle-punched with polyester fibres. It works in two ways – the metallic fibre reflects heat or cold back to its source, and the polyester batting resists the conduction of heat or cold.
I use insulated batting in my potholders and oven mitts because there's no point going through the process of making something only to have it turn out that I can't use it for its intended purpose. In my research, I've seen many tutorials that use only cotton batting. I don't recommend that for obvious reasons, but hey, if you're happy to risk it, be my guest!
Wool blankets
Ok, here I go, back to my upcycled wool blankets… but hear me out! If you don't want to fork out for the insulated batting and you happen to have an old wool blanket lying around that you're happy to cut up, wool is a great option to use as an external fabric (as I said above), but also as an environmentally friendly batting option.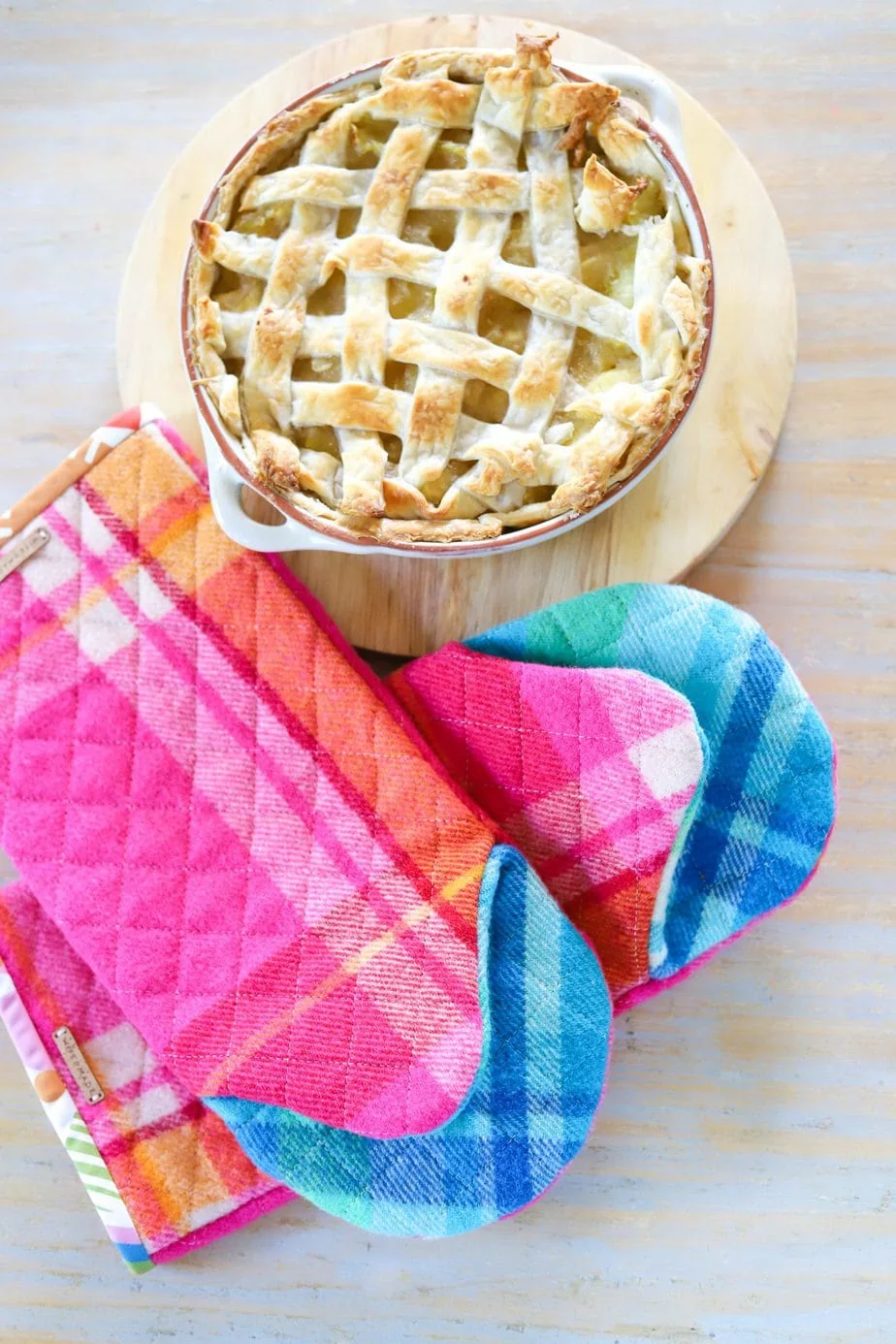 Do I have to quilt the layers of the oven mitt?
As you'll notice in commercially-made oven mitts they're not always quilted. From a commercial or handmade perspective, it would be cheaper to leave out the quilting because it saves time. Quilting the layers together does add a significant amount of time to the construction process.
Nevertheless, my preference is to quilt because it holds the guts of the potholders and oven mitts together. This then allows less movement between the layers; less movement leads to less friction which in turn means that the oven mitts aren't going to wear as much. The batting inside also isn't going to budge if it's quilted. Because I intend on washing my oven mitts regularly (good intentions!) and likely more often than I would a quilted blanket, I think it's even more important that you quilt.
HOWEVER, you can do whatever you like. You don't have to quilt the layers if you don't want to. It will definitely save you time if you don't.
Is this pattern suitable for a beginner sewist?
To me, a Confident Beginner knows the basics of sewing. To get to this point they've sewn several items and have most likely made a few pieces unassisted. They understand how to read a pattern, and know the meanings of the more commonly used sewing terms. They are ready to progress to the next level of beginner sewing, which may include sewing curves or attempting more finicky techniques.
Although the Wife-made Oven Mitt Kit is a fairly straightforward pattern, the inclusion of the gusset may be more than a beginner sewist can handle without assistance, which is why I labelled this pattern as suitable for a Confident Beginner.
Also, because I also wanted to produce this pattern in a physical trifold card format which sells at a lower price point than my regular booklet patterns, I was restricted with how much space I had and therefore wasn't able to provide the in-depth descriptions I usually do. A sewist with experience will have no trouble understanding what is required from the explanations provided, however that may not be the case with a beginner.
Post me the Oven Mitt Kit paper pattern, pretty please!
What format does the Wife-made Oven Mitt Kit sewing pattern come in, and where can I buy it?
As with all my patterns, my oven mitt pattern is available as both a physical pattern and PDF download, which you can purchase in my webshop, Etsy store or your local sewing shop (if they don't have it, ask them to get it in for you!). If you own a fabric shop and you're interested in stocking my patterns, you can find out more here.
If you post photos of your oven mitt creations on social media make sure you tag Wife-made with the following hashtags so I can cheer you on from the sidelines (and also share your amazing work on my feed, if you let me!).
#wifemade #wifemadepatterns #wifemadeovenmittkit
Have fun and I can't wait to see what you come up with!