Reuse your old jeans to make these super easy upcycled denim sacks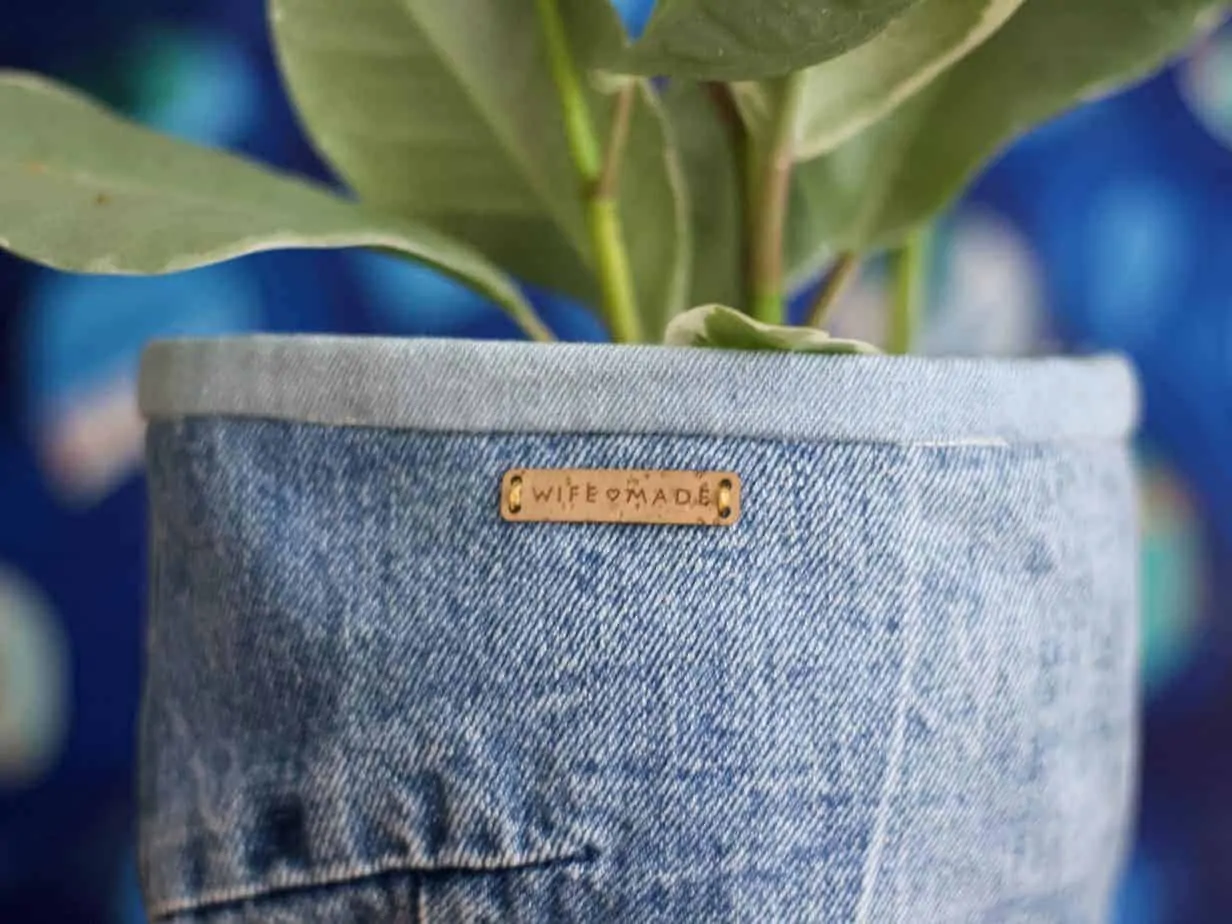 I've been a lover of upcycling for many years now, and if you've followed my creative journey for a while you will probably be acquainted with these patchy wool cushions I make from old wool blankets collected from op shops.  I'm always looking for ways to re-use, repurpose, and upcycle objects that have lost their 'intended use' sparkle, but I do like things to also suit my expensive *sigh – it's a curse!* but eclectic design taste.  What I mean by that is you're not going to see me lugging around a bag made out of the top half of a pair of jeans (The fly is included, you say? Gee. Thanks. I think.) or dress my husband in a denim bow-tie (That's a firm pass.).  But upcycled denim sacks that add a bit of zhoosh to my pot plants?  I'll take it!
Now, you know those jeans you've been visible-mending forever that are probably well past their use-by date but you just haven't got the heart to ditch yet?  Go get 'em, because they'll be perfect for this project!  (One thing to mention here is that straight leg jeans tend to work better for this project.)
One of the few places you don't see too much wear on a pair of jeans is at the ankles.  And that's exactly the bit we want to use for this project.  Waste not, want not, right?!  And, if you haven't got a pair of jeans in your wardrobe that are at the 'cut me up' stage, I'm heading to the op shop soon to see if I can find myself a pair of jeans that I can cut off into shorts for summer.  And guess what I'll be doing with the legs….? *wink wink*
How to turn your jeans into super cute and easy upcycled denim sacks
Step One: Cut off the bottom of the jeans leg
Ok, so this step is pretty easy, but here are some things to consider before you start hacking away.
What height and width proportions will make the finished sack look visually appealing, but will also fit the purpose you will use the sack for?
Do you want to be able to turn the hem down at the end, like in the picture above?  This is purely just a styling feature and not functional at all.
If you don't want to turn the hem down, you don't need to include a seam allowance for the top of the sack because the ankles of the jeans are most likely already hemmed.  And if they have a bit of wear and tear… even better!
If you've decided you do want a folded hem at the top of the sack, go ahead and turn the hem down as far as you want it (anywhere from 1-2″ is plenty), but if not, just leave it as is.  Now, lay the jeans on a cutting mat and measure the height of the sack that you want, including a half-inch seam allowance in your measurement.
For my jeans, which are about 8.5″ wide, I'm going to cut them at a height of 10.5″ after I've turned down the hem.
Step Two (a): Make a french seam on the cut end.
Remember how I told you this is a super-fast project?  Well, you're almost finished already.  Really, there are only two steps, but I've broken step two into part a and part b in case you don't know how to make a french seam.
To make a french seam, stitch a 1/4″ seam along the cut end with the jeans the right way out, then trim the seam allowance to 1/8″.
Step Two (b): Make a french seam on the cut end.
Now, turn the almost finished sack inside out, pushing out the corners as neatly as possible.  (You could trim the corners if you want, but it's really an unnecessary additional step.)  Finger press along the line of the seam to get a crisp edge and then stitch 3/8″ from the fold to make the french seam.  Turn the sack back out the right way and voila!  You have a finished denim sack!  Now, repeat with the other leg and you have two upcycled denim sacks!  Magic.
As I said, these upcycled denim sacks are super easy and a very fast make.  So, for a final finishing touch I sometimes like to fold the corners of the sack up and add some cute little hand-stitched crosses in an ochre-coloured thread, like on the sacks below, but this is also not functional and completely unnecessary.  (But since when does everything have to be functional?  Never, I say!)
One last thing I should mention is that you can keep making upcycled denim sacks out of the remaining leg fabric by finishing the top edge with a binding, like in the featured image at the top of this post, or simply leaving it raw.  You could also throw it in the wash a few times to get the raw edge to fray!  Whatever you do, have fun with it!
Now, if you're wondering what to do with the rest of the jeans you just hacked into, here are a few more Wife-made approved* ways to up-cycle jeans.
*Denim bow-ties and weird fly-bags not included.
Can someone puh-lease make me a whale? Stat!  Here are two patterns that are sure to use up those extra denim scraps you might have laying around!  (Click the images below to go straight to the original makers!)
This frayed denim pouch by Curly Made definitely ticks the box for me!  (Also, Daniela has curly hair like me so I love her already.)
These luggage tags by Scratch & Stitch are super useful and would definitely make identifying your luggage much easier when you're travelling.  
Another storage use!  Love this little woven basket by OhOh Deco.