Strip-piecing tips for the Strudel quilt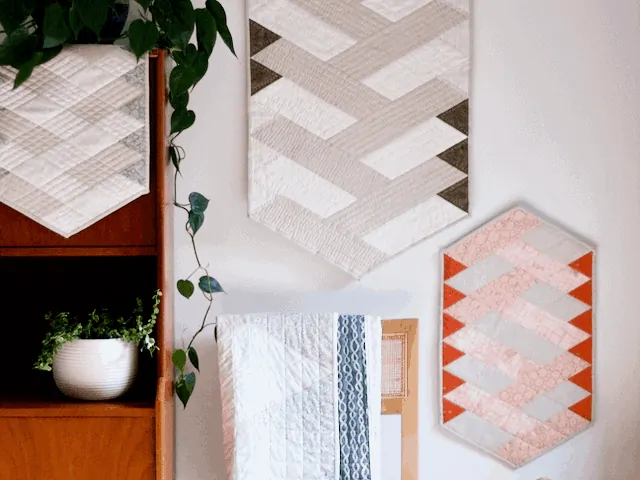 This strip-piecing tips video tutorial will prove to you just how fast and forgiving the Strudel quilt is to make, because sometimes a fast, fun make is just what the doctor ordered, right? I should also mention it's the kind of quilt you can just ENJOY making while binge-watch/listening to your favourite TV series. (Because that's what quilters really do, right?? Binge-watch/listen? Haha!)
Hang on, is Strudel really strip-pieced?
Ok, you got me there. Technically, that's probably a no. But I wasn't really sure what else to call it because it definitely doesn't fall into the traditional block-pieced quilt category. I mean, you make strips and you piece them together, so I've called it a strip-pieced quilt.
So, what is strip-piecing?
Technically, strip-piecing is a time-saving method for piecing a quilt block like a nine-patch (or something similar that requires repetition) where strips of fabric are sewn together parallel, and then sub-cut into several segments to create smaller, repetitive quilt blocks. (If you want to know more about traditional strip-piecing you can read about it here, here and here. You're welcome!)
This is not actually what you do in the Strudel quilt. Sorry to be confusing, but please let me explain.
In the strip-pieced Strudel quilt (yep, I'm sticking with it!) you piece together blocks that are strips, and then you piece together the strips to create the quilt top. Simples!
Is the strip-pieced Strudel quilt BETTER than traditional strip-piecing?
Wow! What a question! But you know what, I think it is! Let me tell you why.
Even though it is definitely a faster way to piece together repetitive quilt blocks when compared to cutting out each individual square and piecing them together one by one, traditional strip-piecing actually calls for a significant amount of accuracy from the quilter. Scant quarter inch seams HAVE to be scant EVERY SINGLE TIME because all those un-scant quarter inch seams add up and eventually quilt blocks won't be the size they're supposed to be. Which, as you can imagine, causes problems at the end. Which is definitely when you least want to hear about problems in the quilt-making process. Believe me.
Because of the strip-piecing process used in the Strudel quilt pattern you get the benefits of speedy quilt-top construction, without the need for extreme accuracy.
This leads me to why I LOVE the Strudel quilt pattern so much…
The Strudel quilt pattern is very forgiving.
Despite how it may look with all its fancy 60-degree angles, Strudel is most definitely a quilt pattern that can be confidently attempted by adventurous beginner quilters.
So long as the triangle cutting preparation has been done properly (and you can watch my video tutorial about that here) the piecing of the quilt top should go fairly smoothly because it doesn't actually call for seams to line up.
Yep, you read that right. There are no seams to nest in this pattern. Don't believe me? Watch the video!