Strudel quilt release and tips!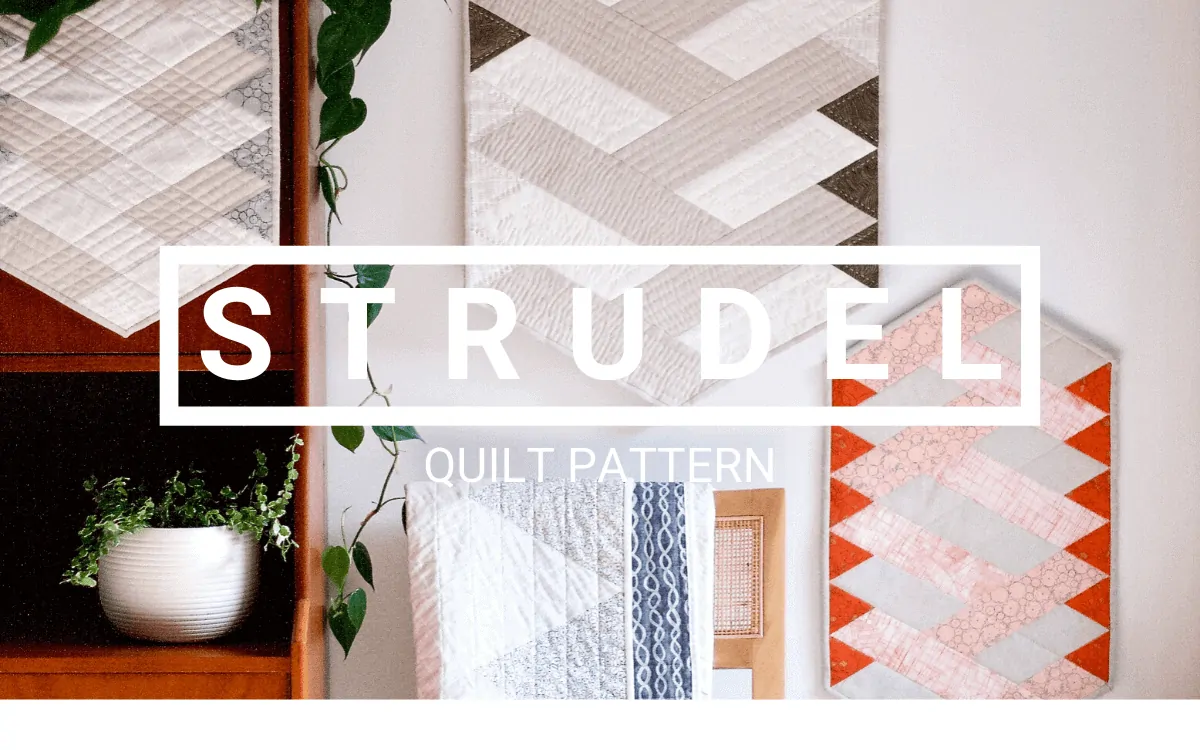 And just like that, the STRUDEL QUILT is LIVE!  Yay!  Hurrah!  Hooray!  Cheers!  Mazel tov! Oo-pah!  Congratulations, I made it!
Since it's taken me so long to finally get to this stage (if you've been following along with me on social media you'll know how long…), let's get right to it!
Strudel Quilt – 1 pattern, 12 options… and even more!
Strudel is a fun and fast design that showcases the beauty of 60° angles!  The quilt pattern offers a range of project sizes including runner, wall hanging, throw and twin sizes, as well as instructions for two different colour combinations – in total that's twelve different project combinations in one pattern!  Say whaaaat?!
The size flexibility of the Strudel pattern is one element that I really love about it, and is why I made the 'and even more' comment in the heading above.  In the photo below you can see the different sized runners – two on the wall and one under the plant.  Whether it's a runner, wall hanging, throw or twin sized project you can easily adapt the pattern to your specific requirements by adding or removing blocks from the length of the quilt.  This is particularly useful for the runner and wall hanging options!  For a table length runner, add as many blocks as necessary to make it the perfect length for your table, or if you just want a little trivet for under a plant remove as many as you want to a minimum of three triangles on either side.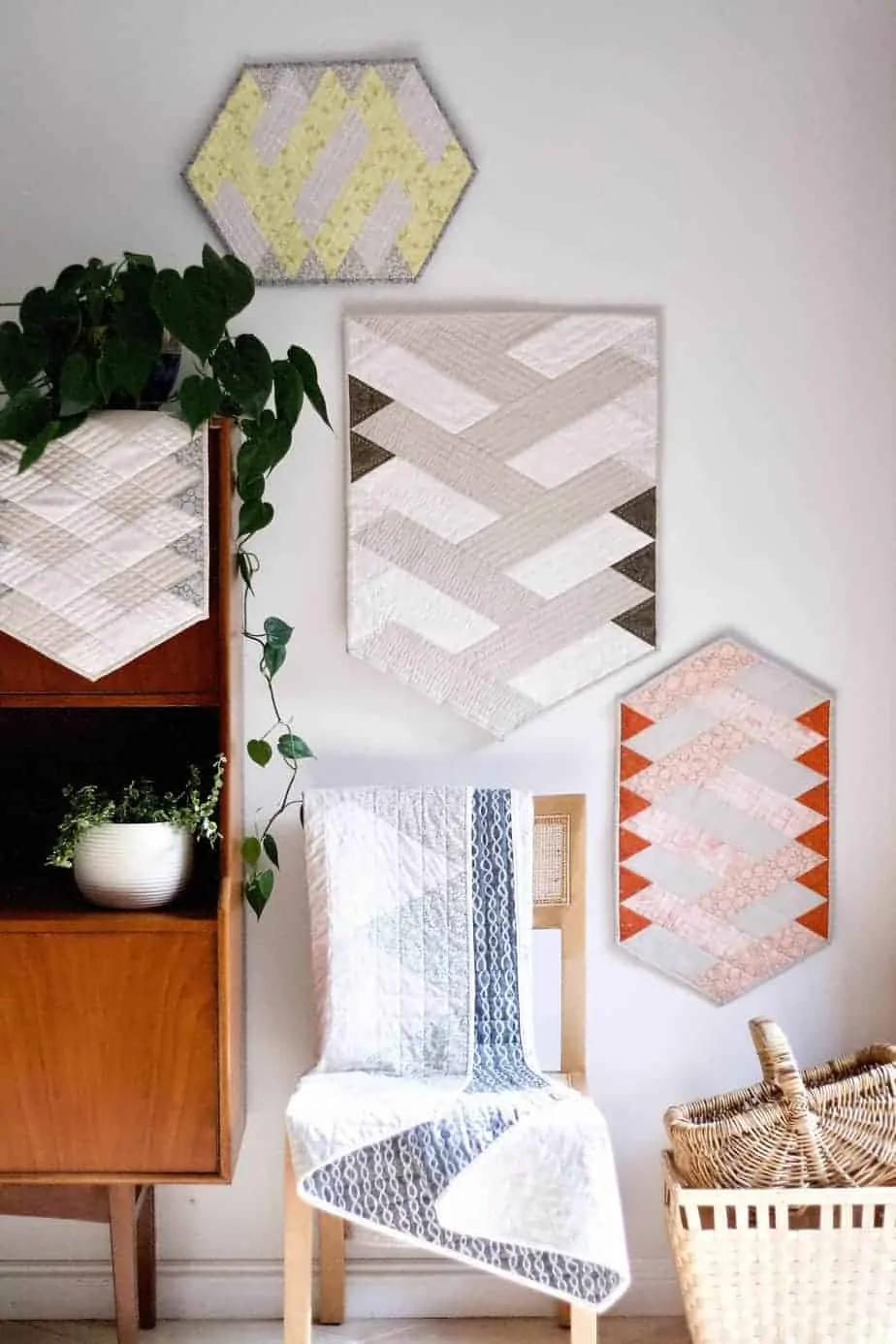 Download the Strudel Quilt pattern today!
For members of the EU, for VAT collection purposes you can purchase the downloadable Strudel Quilt pattern in my Etsy shop.
Who's afraid of the Big Bad Bias Cuts?  
Answer: Not you, if you're sewing a Strudel!
If the thought of dealing with bias-cut edges usually sends you running wildly with your hands in the air from any pattern that smells even slightly like it might involve sewing with them, then be warned, this pattern obviously does include bias cuts.  But you probably already guessed that from the fact that it includes triangles and 60° angles, right?
HOWEVER, the way I designed Strudel MINIMISES the impact of the bias on quilt construction, which, in my opinion, makes this kind of angled design much more approachable for the bias-wary creative.  Even though I have labelled it as an intermediate level pattern I would happily encourage confident beginners to give it a shot.  Just be sure to use lots of spray starch and follow the instructions carefully.
To help you on your way (regardless of whether you're a quilting newbie or a seasoned quilting fanatic) the Strudel pattern provides clear cutting instructions and diagrams to help you prep your fabric and piece your quilt in the most efficient way possible.
Tips for quilting the Strudel quilt
Because this design does have bias cut seams it is important to take care when making the quilt sandwich not to stretch the quilt top out of its original shape.  The bias seams will give a little more than straight seams and you may end up with a wonky quilt top if you are too aggressive when pulling the quilt top taut through the quilt sandwich making process.  If this happens to you, don't despair!  I don't always have a perfectly squared up quilt at the end, even when I'm working with straight cut seams!  More and more I'm learning that perfection isn't a sign of success.  Just enjoy the process, and chalk up your wonky edges to practice and learning!
When it comes to the actual quilting process, I have a particular appreciation for 1.5″ straight line grid-style machine quilting at the moment, which I used on the Carolyn Friedlander CF Strudel quilt on the cover of the pattern.  I feel like grid quilting is a nice option for Strudel because it brings a balance to the quilt when combined with the 60° angles, and I will definitely do that again.
My preferred finish is usually some sort of combination of machine quilting and hand quilting, and this is particularly effective for the wall hanging, as you can see in the photo below.  Hand quilting adds amazing texture to a quilt that you just don't get with machine quilting, not to the same level anyway IMO. 
The added machine quilting is a bit like a safety net for me – it acts as permanent basting so I know nothing's going to move around after I've finished off the hand quilting, and also adds a bit of extra strength to the quilt.  I feel like a quilt with this combination is more likely to survive a lot of lovin', but maybe that's just my anxiety about all my hard work being destroyed talking there?  If it's a wall hanging or runner, you don't really need to do the machine quilting as well, but it's up to you!
If you like the idea of using a mixture of machine and hand quilting I recommend 'stitch in the ditch' for the machine quilting because it leaves you with a basically clean canvas on which to start your hand quilted design. 
Below is a diagram of the approach I used, which removes the need for burying threads (which is the absolute pits, if you ask me ;).  Just lock your stitch (backstitch) at the start and end of each row, just on the edge of the quilt where it will be covered by the binding.  
How to choose fabric for your Strudel quilt
As I mentioned early on, the Strudel quilt is a fast quilt top to stitch together, which is due to what I have called its 'maxi-pieces'.  The throw and twin sizes use long strips of fabric that are 8″ wide, which happens to be perfect for those BIG and BOLD prints that smaller quilt designs don't do justice to.
In the pink and orange Strudel quilt above, I used an Alexander Henry floral that I'd had stashed away for years.  I originally bought it because it reminded me of vintage sheets but the problem was that none of the quilts I was making were right for the design.  Too much of the floral pattern would have been chopped up and the beautiful design wouldn't have actually been visible.  But Strudel allows those big prints to sing!  (NOTE: If you're reading this, and you know you have a few yards of that fabric stashed away that you'd happily part with for the right price, let me know as I have had people asking about this print!)
If you're looking for some big, modern prints, check out Nerida Hansen Print & Textile for a range of local and international designers who do big and bold beautifully (like local Gold Coast designer, Ellie Whittaker!).  Nerida also now stocks an organic quilting fabric range and it is luscious. 
I think this Holli Zollinger fabric would be PERFECT for a Strudel throw or twin sized quilt.  I'd use the top left floral for the triangles, top middle for the foreground and top right for the background, a matching soft pink solid for the binding so it blends in and then the tigers for the backing.  RAAAAWWWWWR!
I guess the thing about quilts is that they tell different stories, depending on what fabric you use.  To me, the large motif of the throw and twin sized quilts means it really lends itself to big and bold.  But when you size down to the runner and wall hanging it's a whole different ball game!  I made the most of the opportunity to use a selection of prints from Carolyn Friedlander's Collection CF range, as well as some Essex linen in Oyster, which matches the collection perfectly.  I have to admit, I really have a soft spot for the small yellow runner – it will be going on the wall in my work area, for sure.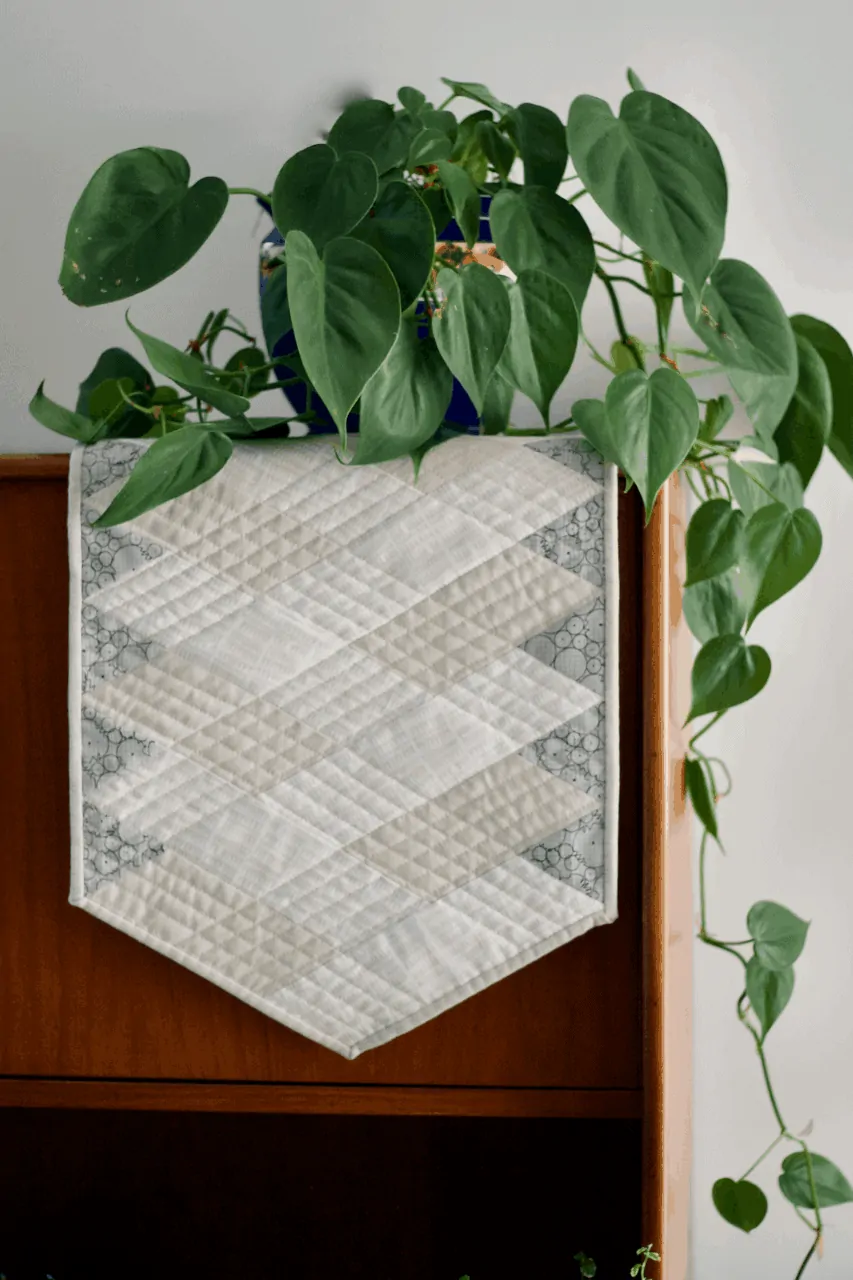 Strudel Quilt Pattern Testers
I really want to highlight the important and very much appreciated role my pattern testers played in bringing this pattern to life.  You can check out their beautiful creations on Instagram by searching #strudelquilt and I've also included a gallery below, with their Instagram handles. 
While the initial idea and work for Strudel was mine, I feel it really came into its own with the input of my testers.  Sometimes when you wrestle with something it can be easy to just give up in order to get it out of your sight, but I knew that just wouldn't have been good enough.  Having someone egging you on, telling you its missing something and offering you their opinion is exactly what is needed to get you over the line at times.  So, THANK YOU, my dear pattern testers!
Well, we made it!  But I have to be honest – for a while there I did wonder if this pattern would ever see the light of day…  The whole process took A LOT longer than I had anticipated.  But I've come to learn that as a stay-at-home-mum-of-four with a husband who travels a lot for work, I really need to set aside my expectations and go with the flow of life.  Because life is much more enjoyable and manageable for everyone involved (me AND the rest of the family) when you don't go through it grumpy and annoyed because your expectations aren't being met. *wink wink*