How to use fabric scraps, reduce waste and make beautiful washi tape triangles!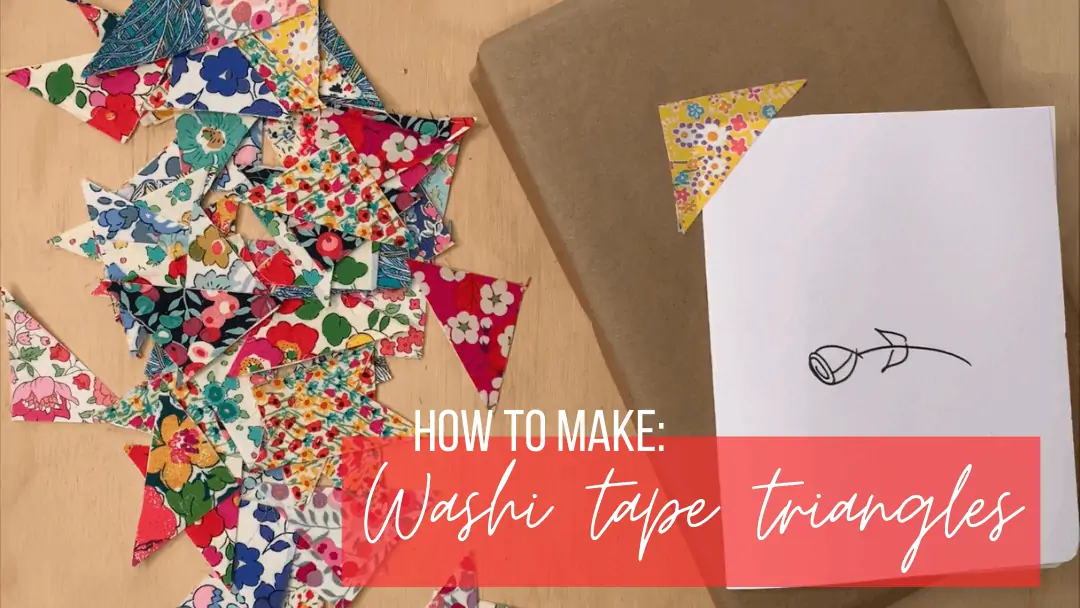 When you make my latest pattern, the Espalier quilt, you'll find that you have a lot of little triangle scraps after making the leaf blocks that you may not be quite sure what to do with.  In the case of my scrappy Liberty Espalier quilt (see the image below!), I knew those little scraps were DEFINITELY too precious to just bin, so I came up with a cute and useful solution – washi tape triangles!
I'm sure this won't be the first time you've found yourself with little triangle scraps you don't know what to do with, (if it is you must be a first-time quilter, surely!?), so this washi tape triangles tutorial will send you scrabbling through your scrap bins to put those precious scraps to good use!  These little washi tape triangles are perfect for sticking a note to a gift or any way you'd normally use washi tape – just in a fancier shape!
What you need to make washi tape triangles
36mm wide double-sided tape, or wide enough to fit whatever size your triangle scraps are.  (My first stop to find some double-sided tape was Officeworks, however the options they had were far too narrow for the fabric scraps I had.  I did a quick Google and found Sharon's tutorial at Lilabelle Lane for making Liberty Washi Strips, so off I went to Bunnings!  They had two width options – 36mm and 46mm.  I went for the smaller size but choose whatever suits the fabric scraps you have to work with!)
Various fabric scraps in the shape of triangles approximately 36mm high
How to make washi tape triangles
Press the triangles so they're nice and flat.

 

Mine were a bit curly from being stored and I didn't want to risk getting them stuck on the double-sided tape the wrong way.
Unroll the double sided tape until you have about 5 to 10 inches lying sticky side up in front of you. Doing this in small increments will stop the double sided tape from getting stuck on itself and causing mucho problemos!
Carefully stick the fabric triangles wrong side down onto the sticky side of the tape.  (Note: Depending on what size tape you have, your triangles may hang off the edges slightly, or be slightly too small.  In my case they're a little too big, but it's just the tips of the triangles hanging off and I'm not too worried about it because they still look great!)
When you've covered the amount of tape you have unrolled in front of you, carefully trim off the tape and repeat the steps listed above until you have used up all your fabric scraps!
Here's a little video I did to show you the process from start to finish!  Now go and have some fun using up some of those tiny triangle scraps and make yourself a pile of washi tape triangles!